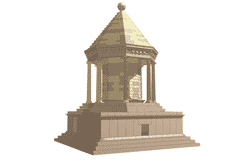 B. Thuswaldner, S. Flöry, R. Kalasek, M. Hofer, Q.-X. Huang, H. Thür
ACM Journal on Computing and Cultural Heritage (JOCCH) 2(1), 2009
Abstract:
Anastylosis is the archaeological and architectural reconstruction of a ruined monument at the
historic site after careful study of the remaining original elements. We present research results
concerning 3D technologies that are used in the digital anastylosis of cultural heritage monuments.
Based on current state-of-the-art research we present 3D data collection, digital artefact
reconstruction, and digital reassembly of existing fragments, illustrated by means of the Octagon
monument in Ephesos, Turkey. Our focus is on methods that belong to geometry processing.
Categories and Subject Descriptors: I.3.5 [Computer Graphics]: Computational Geometry and
Object Modeling, Geometric algorithms, languages, and systems; Curve, surface, solid, and object
representations.
Bibtex:
@article{thuswaldner2009-dao,
	author = "Barbara Thuswaldner and Simon Fl{\"o}ry and Robert Kalasek and 
	Michael Hofer and Qi-Xing Huang, Hilke Th{\"u}r",
	title = "Digital anastylosis of the Octagon in Ephesos",
	journal = "ACM Journal on Computing and Cultural Heritage (JOCCH)",
	volume = "2",
	number = "1",
	year = "2009",
	pages = "1--27"
}

| | |
| --- | --- |
| paper | |