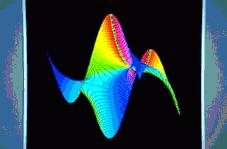 Eighth Seminar on Analysis of Algorithms
June 23-29, 2002, Strobl (Austria)
Welcome to the homepage of the Analysis of Algorithms 2002 conference, which was held from June 23-29, 2002, in Strobl at the Wolfgangsee in Salzburg, Austria.
On this site you can find the following informations:
| | |
| --- | --- |
| | |
Predicting the performance of algorithms is a likely outgrowth of ongoing research in analytic combinatorics and the analysis of random discrete structures. This workshop will bring together leading researchers in this field to focus on such problems. Probabilistic considerations on inputs and the random combinatorial structures underlying algorithmic analysis have provided an active area of modern research. One assumes some reasonable probability distribution on input instances to an algorithm as a way of understanding the inner workings of the algorithm and its "typical behavior." Experience in the field shows that it is often unwieldy to work with exact models, where on the other hand one can say something meaningful and precise on the typical "asymptotic" behavior of the algorithm, when either the underlying combinatorial structure becomes very large or when the algorithm is challenged by massive data sets. In these cases one sometimes gets simplified but exact expressions dealing with first (or higher) order expansions of averages, moments or distributions, as some parameters of the algorithmic problem grow to be very large. The focus of this workshop is the average case analysis of algorithms, and its relation to the wider areas of analytic combinatorics, exact and limiting distributions, formal techniques, probability theory, combinatorics and computer science. We identify the following areas as being of particular interest:
Properties of large randomly formed data structures,
Analytic tools for analysis of algorithms,
Probabilistic methods for analysis of algorithms,
Combinatorial methods for analysis of algorithms,
New results concerning average case analysis of classical or new algorithms,
Data compression and language-modeling methods.
The committee for the conference consists of the following people:
There will be a special issue of the journal "Combinatorics, Probability & Computing", with guest editors M. Drmota and W. Szpankowski. The call for papers is available as postscript and pdf. The submission deadline is December 15, 2002.
Some of the pictures taken during the conference are now available. If you have any additional ones you are willing to publicize, please contact me!
A poster for the conference was mailed to all participants. The poster was designed by Anna Wyszynska. The boat picture is provided courtesy of www.PhotoWorld.de. You can get a larger version here or by clicking the small version above.
---
Comments please to Thomas Klausner.

Last modified: Tue Jul 2 12:40:13 CEST 2002