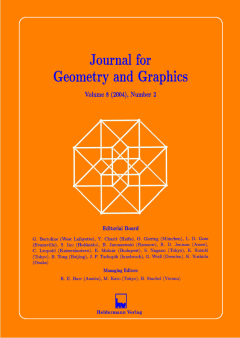 Journal for Geometry and Graphics (JGG)
The concern of this international scientific journal is to stimulate scientific research and teaching methodology in the field of graphics and graphics-related geometry by the dissemination of new results.
---
Editorial Board
G. Bertoline (West Lafayette), Y. Charit (Haifa), O. Giering (München), L. D. Goss (Evansville), S. Ino (Hokkaido), B. Januszewski (Rzeszow), R. D. Jenison (Ames), C. Leopold (Kaiserslautern), E. Molnár (Budapest), S. Nagano (Tokyo), K. Suzuki (Tokyo), B. Tong (Beijing), J. P. Tschupik (Innsbruck), G. Weiss (Dresden), K. Yoshida (Osaka).
Managing Editors
Ronald E. Barr, University of Texas, Austin, U.S.A.
Michio Kato, University of Tokyo, Tokyo, Japan
Hellmuth Stachel, University of Technology, Vienna, Austria.
Reviewing and Indexing
The Journal for Geometry and Graphics is reviewed in Zentralblatt für Mathematik and Mathematical Reviews, indexed in Scopus (SCImago), and listed in Cabell's Directory.
Information for authors
Please download the following:
Contact
To contact the Editorial Office of JGG, please send an email to jgg@geometrie.tuwien.ac.at or directly to the editor in chief stachel@dmg.tuwien.ac.at
For submitting a manuscript, send either a pdf to stachel@dmg.tuwien.ac.at or three hardcopies by surface mail to
Prof. Dr. H. Stachel
Institut für Diskrete Mathematik und Geometrie
TU Wien
Wiedner Hauptstr. 8-10/104
A-1040 Vienna, Austria