Descriptive Geometry

This is a method to study 3D geometry through 2D images. It provides insight into structure and metrical properties of spatial objects, processes and principles. We are interested in new educational tools and methodologies.
---
Publications

H. Stachel. Descriptive Geometry Meets Computer Vision - The Geometry of Two Images. J. Geom. Graphics 10 (2006), 137-153.
H. Stachel. What is descriptive geometry for? In DSG-CK Dresden Symposium Geometrie: konstruktiv & kinematisch, pages 327-336. TU Dresden, 2003, ISBN 3-86005-394-9. held in Dresden 27.2.--1.3.2003.
H. Stachel. A way to geometry through descriptive geometry. Prikladna geometriya ta inzhenerna grafika [ukr.], (Applied Geometry and Engineering Graphics) 70 (2002), 14-19.
H. Stachel. Remarks on A. Hirsch's paper concerning Villarceau sections. J. Geom. Graphics 6 (2002), 133-139. [MR].
H. Stachel. Das Gleichlauf-Kugelgelenk - ein Beispiel zum anwendungsorientierten Unterricht aus Darstellende Geometrie. In SDG Symposium Darstellende Geometrie, pages 151-156. TU Dresden, Institut für Geometrie, 2000, ISBN 3-86005-258-6. Proceedings of the conference held June 15.-17, 2000.
H. Stachel. Recent applications of descriptive geometry to mechanical engineering. In Proceedings of the 5th Japan-China Joint Conference on Geometry Education, pages 7-11 (Supplement), 2001. held in Osaka (Japan), July 31 -- August 2, 2001.
Quick Links
---
Hellmuth Stachel
---
Theory of Linear Mappings
---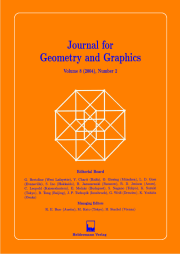 Journal for Geometry and Graphics (JGG)
---
Sitemap
---
External Links
---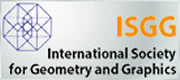 International Society for Geometry and Graphics
---

ADG - Fachverband der Geometrie
---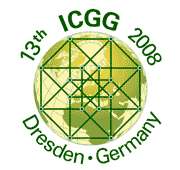 13th International Conference on Geometry and Graphics, August 4th-8th, 2008 Dresden, Germany
---