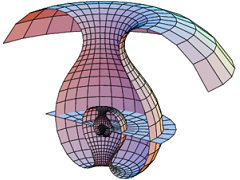 A discrete isothermic surface of revolution, the parts above and below the indicated plane are discrete minimal nets in the respective Poincaré half space.
Differential geometry has been a thriving area of research since more than 200 years, employing methods from analysis to investigate geometric problems. Typical questions involve the shape of smooth curves and surfaces and the geometry of manifolds and Lie groups. The field is at the core of theoretical physics and plays an important role in applications to engineering and design.
Finite and infinite geometric structures are ubiquitous in mathematics. Their investigation is often intimately related to other areas, such as algebra, combinatorics or computer science.
These two aspects of geometric research stimulate and inform each other, for example, in the area of "discrete differential geometry", which is particularly well suited for computer aided shape design.