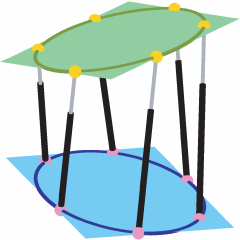 Due to a result from M. Chasles (1861) it is known, that planar SGPs, where the platform anchor points and corresponding base anchor points are related by a non-singular projectivity, are architecturally singular, if the anchor points are located on a conic.

Moreover, it is known that all architecturally singular SGPs are redundant. Therefore, they possess a self-motion in each pose. It can easily be seen by the above given example, that this only holds over the complex number field. In the given pose the platform and the base coincide as well as the centers of the two circles (projectivity is a similarity).
Stewart Gough Platforms with Self-Motions
The main aim of the project is the systematic determination, investigation and classification of Stewart Gough platforms with self-motions.
---
This project is funded by the Austrian Science Fund (FWF).
FWF grant no. P 24927-N25
Duration: 2013-2018 (extended for 24 months without additional costs)
FWF-Funding: € 319 347.00
Project leader: Georg Nawratil
Aims and Scope
A Stewart Gough platform (SGP) is a parallel manipulator, consisting of a moving platform, which is connected via six spherical-prismatic-spherical legs with the base, where only the prismatic joints are active. If the geometry of the SGP and the six leg lengths are given, then the manipulator is in general rigid, but under particular conditions it can perform an n-parametric motion (n>0), which is called self-motion.
Moreover, all self-motions are solutions to the still unsolved problem posed by the French Academy of Science for the Prix Vaillant of the year 1904, which is also known as Borel Bricard problem and reads as follows: "Determine and study all displacements of a rigid body in which distinct points of the body move on spherical paths."
Project Publications
Project Talks